Wired up! SA man builds 1967 classic Ford Mustang from the ground
Wired up! SA man builds 1967 classic Ford Mustang from the ground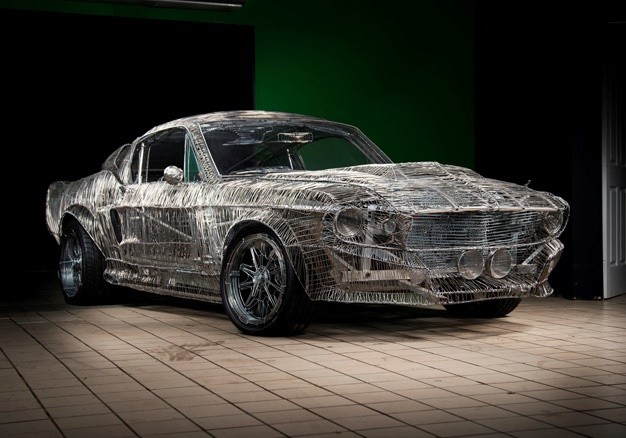 Johannesburg - Thirty-three years after the first 1967 Ford Mustang GT500 rolled off the production line, a vamped-up Hollywood version of the '67 classic hit the big screen, in the remake of 'Gone in Sixty Seconds', starring Nicholas Cage and Angelina Jolie.
Not only did this now-legendary movie inspire a whole new generation of petrolheads, it advanced the status of the 'Eleanor' Mustang to one of the most recognisable and coveted muscle cars on the planet.
Fast forward to 2017, and Lesotho-born, South African resident Conty Fonane unveiled his own ode to the same '67 classic – a life-sized sculpture fashioned almost entirely out of wire.
Fonane is no Andy Warhol. He doesn't have a 'factory' of assistants helping him to produce his artworks. Fonane is a humble one-man show, a solopreneur, who does everything himself. The technical skill required to build a life-size Mustang out of wire is not to be under-estimated; it's not something you learn overnight. Fonane had been sculpting smaller wire cars for more than a decade before he levelled-up to this grand scale.
His love affair with Ford goes back to his childhood. "I have always been into Ford. I love Ford. For the speed and the sounds," he says. Reflecting on the start of his career: "I remember my father talking about cars almost every day. He would show me pictures, and tell me about the engineering, and explain how cars were hand-built. This inspired me."
Realising the commercial value of his talent for wire art, combined with his passion for all things automotive, he started building small wire models which he sold to car dealerships.
"When I started making these wire cars, I thought that I'm just trying to sell them to make money so that I can find myself working in a car company, or being a car designer. But it continued until it started being a business." People sat up and took notice, and the commissions started arriving.
Fonane built his Mustang at the Creative Rides showroom floor in Bryanston, Johannesburg. He worked every day, Monday to Friday, for seven months on the car. More than 1120 hours of labour and R180 000 of raw materials later, his creation was complete. The final sculpture, consisting of stainless steel wire, aluminium tubing, and a set of real rubber tyres, weighs a whopping 400kg, and requires a trailer to be transported anywhere.
The build was a challenge, demanding a great deal of stamina to see the project through.
Calculations, measurements, cutting, bending, binding, welding … it was like walking the Great Wall of China, back and forth, barefoot!" says Fonane. "The car wanted to fight back, telling me: 'Conty, you can't make me!' But I saw my hands shaping it, and I started falling in love with it. And I told the car: 'I will make you, because I am in love with you.' That's how it worked."
The distinctive proportions of the Mustang, after which the 'pony car' class of American muscle cars was named, are replicated in Fonane's sporty coupé. The long hood and compact rear, combined with intricate interior details, are faithful to the original 1967 model. It has a wire V8 engine, pistons, gearbox, brakes, clutch, working hinges on the doors, seats you can sit in, and even a steering wheel that can turn. Pure art in motion. "Once you are inside the car, you can have fun in it," says Fonane. "It's quite comfortable."
It is through the vision and dedication of wire artists like Fonane that a simple craft, originating in the townships and rural areas, has been elevated to a respected contemporary art form in its own right. What was once only sold on street corners, at flea markets, and in souvenir shops, is now bona fide art, worthy of display in showrooms, boutiques, galleries, museums, and corporate collections.